Take your creativity and Make productivity to the next level with the ground banging ASUS ZenBook Pro Duo! Designed to give you the ultimate edge in workflow efficiency, the powerful RTX Studio Laptop features a full-width 4K ASUS ScreenPad™ Plus that works seamlessly with the main 4K UHD OLED display. It's never been this easy to harness your full creative power.
Design
ScreenPad Plus
The All New Sceenpad Plus Works more productively like no other laptop can or would've.
App Switcher
App
View Max
Organizer
Task Swap
Task Group
App Navigator
Hand Writing and Much more.
Perfect ergonomics, for stylus or keyboard with ZenBook Pro Duo and the bundled stylus — or your favorite active stylus — you can really let your creativity flow. Both multitouch displays support stylus input, but ScreenPad Plus gives you a superbly ergonomic and stable platform for writing or drawing. Take notes, sketch out your ideas, or do precision graphical editing in the most intuitive way ever. There's also a separate palm rest in the box, which enhances the ErgoLift tilting keyboard design to give you the most comfortable typing experience ever.
Endless possibilitiesScreenPad Plus gives you effortless app multitasking, so ASUS works closely with third-party developers — including professional video-editing software developer Corel, with more to come — to optimize ScreenPad Plus for the ultimate productivity. ScreenPad Plus is your gateway to endless possibilities.
PERFORMANCE
GPU
Unrivaled portable powerZenBook Pro Duo is powered by up to a 9th Generation Intel® Core™ i9 eight-core processor, the latest gaming-grade NVIDIA® GeForce RTX™ 2060 graphics and blisteringly fast storage. This ultrapowerful combination ensures that ZenBook Pro Duo takes professional-quality tasks in its stride, such as multi-layer photo or video editing, 3D graphics rendering, or even game live-streaming.
6GBVRAM in GeForce RTX™ 2060
CPU
Ultrapowerful computing ebook Pro Duo is incredibly powerful, featuring up to a 9th Generation Intel® Core™ i9 eight-core processor that's designed to deliver the ultimate multitasking performance. With its unprecedented 5GHz Turbo Boost frequency, ZenBook Pro Duo can effortlessly handle all the apps on your main screen and ScreenPad™ Plus, for the most fluid cross-screen workflow ever. 43%faster than MacBook Pro 15inch 5GHzTurbo Boost frequency.
DISPLAY
4K UHD OLED, ultraslim bezels. The 4K UHD NanoEdge OLED HDR display on ZenBook Pro Duo is truly amazing, with a four-sided frameless design featuring ultraslim bezels. The brilliant OLED touchscreen delivers ultra-vivid colors and deep blacks, with a cinema-grade 100% DCI-P3 color gamut making it a superb all-rounder for professional work and entertainment. The barely-there bezels increase the screen-to-body ratio to a near-borderless 89%, giving you more screen, and less distraction!
OLEDvivid colors
HDRultra detail
100%DCI-P3
3840X21604K UHD main display
3840X11004K ScreenPad™ Plus
89%screen-to-body ratio
NUMBERPAD
Ultimate numeric keypad solutionZenBook Pro Duo features the latest version of the ASUS NumberPad6, an LED-illuminated numeric keypad integrated into the touchpad. Tap on the top-right NumberPad icon for one second to switch the function on and off, and tap on the top-left icon to choose one of two brightness levels. Even when the NumberPad is activated, the touchpad can be used for cursor control thanks to its intelligent software.
IR CAMERA
Hands-free login with face unlockEnjoy hands-free login on your laptop, using the infrared camera with Windows Hello to log in with just a glance — even in the dark!
AUDIO
Audio tuned by Harman KardonThe ASUS Golden Ear team worked with renowned home and automotive audio experts Harman Kardon to ensure the best audio experience. A tailored mix of superior hardware — including smart amplifier technology that delivers louder sound with no distortion — and finely tuned software gives you sound like no other laptop.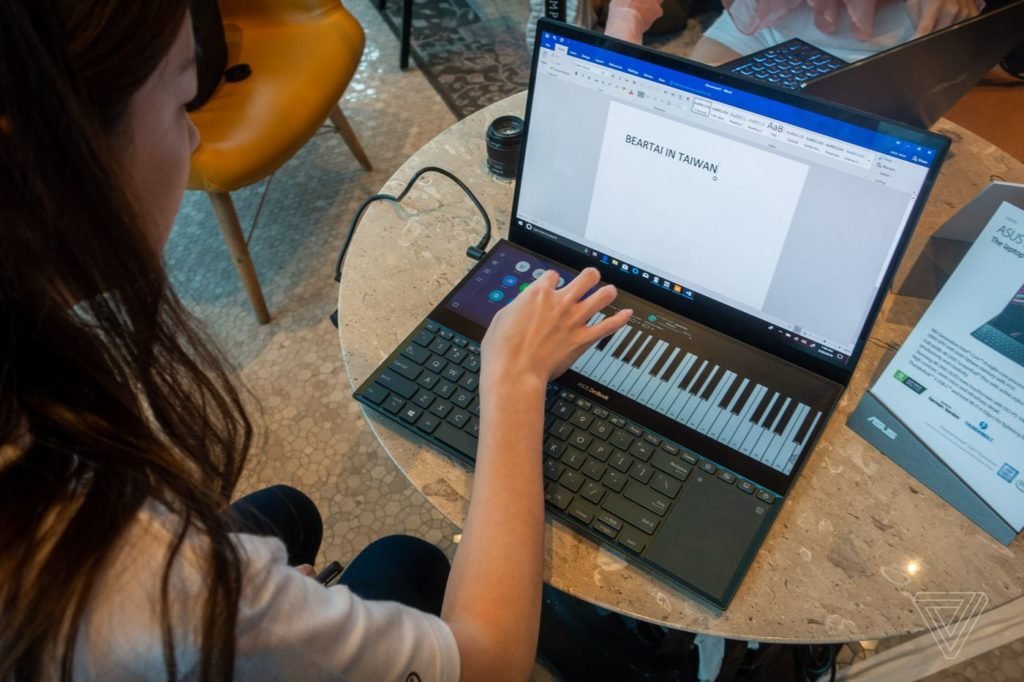 Military-grade toughness and build quality
ZenBook Pro Duo meets the ultra-demanding MIL-STD 810G military standard for reliability and durability, undergoing a punishing test regime that includes extended tests for operation in harsh environments including extreme altitudes, temperatures and humidity. It has also passed ASUS internal laptop tests that far exceed the standards set by the industry.
Every Test from Grounding To Twisting of screen has been made on the laptop.And also certain Temperature tests and Altitude test have also been made.