MX Master 3S Mouse
MX Master 3S Mouse Pros and Cons
Compatible with several devices
Multiple ways to connect to device(s)
Customizable via Logitech Options+ software
Non-removeable battery
Color selection
The MX Master 3S mouse from Logitech is one of the most practical mice I've used in a while; it costs $99.99 on Amazon.Even though it is more expensive than other mice of a similar design, it offers features like support for several OS systems, Easy Switch support, and a 70-day battery life, to mention a few.Even more so if, like me, you employ multifunctional PC accessories for both business and leisure, the MX Master 3S mouse is well worth its asking price.
About the Logitech MX Master 3S mouse:
Connectivity: Bluetooth and Logi Bolt USB Receiver
Dimensions: 4.9 x 3.3 x 2.0 inches
Weight: 141g (0.3 pounds)
Material: Plastic
Special features: Quiet clicking, 8K DPI, Ultrafast scrolling
The enhanced DPI sensor from 4000 to 8000 and the addition of a softer mouse click—which Logitech claims is 90% quieter than the Master 3—are significant differences between the MX Master 3S mouse and MX Master 3.The mouse is fully compatible with the Windows and Mac operating systems.A small amount of support is also provided for the Linux, Chrome OS, iPad OS and Android platforms.
Graphite, light grey and black are the three colour options for the MX Master 3S.
What We Like
Intuitive Form Factor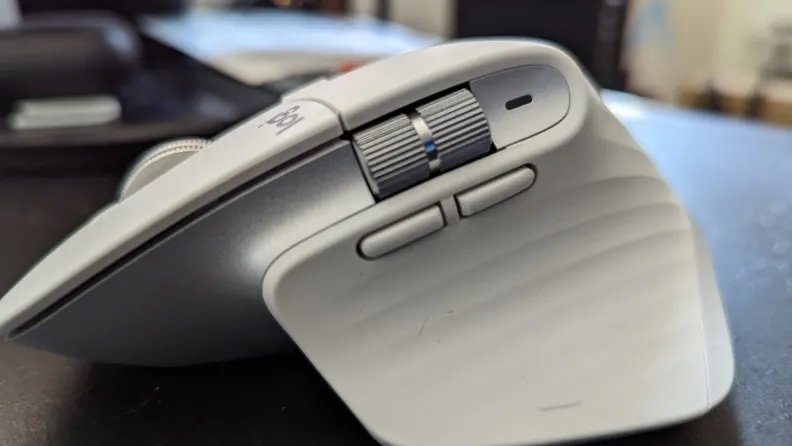 I was smitten by the MX Master 3S mouse design and workmanship after using the functional mouse for a while.I've never used a mouse that was as simple to use and as comfortable to grasp as this one.This resulted from a number of significant design decisions made by Logitech, one of which being the general shape of the mouse.
For right-handed users, the MX Master 3S mouse sports a sculpted shape that conforms your entire hand to the mouse itself to minimise hand fatigue.Without experiencing hand tiredness, I used it for everything from my standard 9 to 5 job to creative writing and even this review.I would typically use the MX Master 3S mouse for 10 to 12 hours a day, depending on whether I was writing creatively after work or playing video games.
The placement of the scroll wheels and buttons is deliberate.Along with the Magspeed scroll wheel and matching mode shift button, the mouse's left and right click buttons are located at its top.The thumb wheel for scrolling and the forward and back buttons for swiftly switching between online pages or computer file folders are two control elements that are conveniently located on the left side of the mouse.
Gesture buttons, which let you map several controls and functionalities to a single button like volume control, music track skipping, and play/pause functionality, are located along the wingtip where your thumb rests.The volume can be adjusted by moving the mouse up or down while holding down the Gesture button.You can choose to play the previous song or skip to the next one by moving from left to right.Finally, you may play and pause the music by selecting the Gesture button.
Together, the mode shift button and the Magspeed scroll wheel function.There are two ways to scroll through lengthy documents and web pages with the Magspeed scroll wheel.You can accurately traverse documents and webpages in a controlled environment by using ratchet mode (line-by-line scrolling).With free-spin mode, you may quickly browse through dozens, if not hundreds, of lines of text with a single finger flick.To recreate free-spin mode, which takes longer to scroll to the bottom of the page with a conventional mouse, you must repeatedly scroll the wheel.
Using the scroll wheel with enough force will switch between these two modes.To simplify its use for particular needs, you may manually move between the two modes using the mode shift button; for work, I frequently utilised the free-spin option to browse through lengthy PDF documents.I was able to prevent user mistake by accidentally activating free-spin when I truly meant to use ratchet mode by taking the time to learn about the mouse's capabilities.
Logitech Options+ support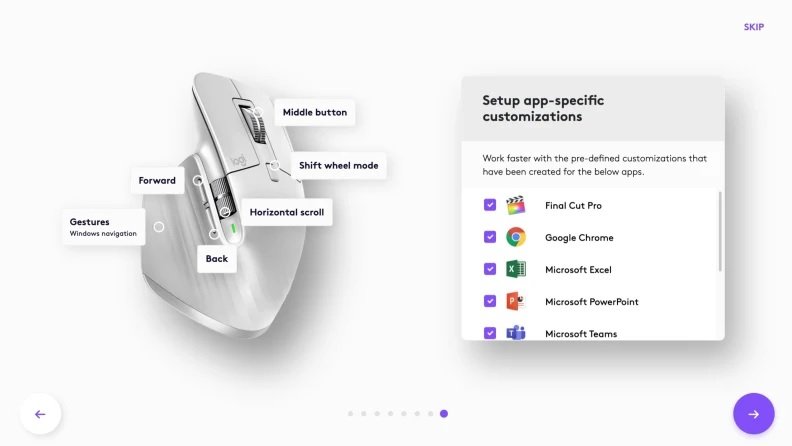 A software package called Logitech Options+ is designed to make the MX Master 3S mouse more convenient to use.The mouse's standard features are more than sufficient to satisfy many people's needs on their own, but the software package opens up more options.One illustration is boosting the mouse's pointer speed from the default 1000 dpi (dots per inch) to a maximum of 8000 dpi.
Anything above 4000 dpi is typically excessive for daily work tasks and sporadic computer gaming.The mouse's sensor becomes more sensitive as the dpi increases, enabling faster movement across the screen.However, it can be helpful for tasks that needs a high degree of precision.
For content creators, business professionals, etc., who frequently utilise higher resolution displays, Logitech claims that the mouse supports up to 8000 dpi.When comparing the dpi levels between 1080p and 1440p monitors, increasing your mouse speed doesn't appear to offer any additional advantages.On a 4K monitor, though, it became more obvious; I was able to see and respond to finer movements, allowing me to point at items more precisely.
The left and right clickers are the only mouse buttons whose functioning cannot be changed.I configured the forward and back buttons to start particular applications while connected to my work PC, streamlining my process.If opening certain folders, controlling volume, media playing, controlling display brightness, and switching between programmes are not your thing, you can set the button to do those things instead.You can change the Gestures button to handle all media controls, app navigation, zoom and pan functions and creating a unique move set if you prefer a streamlined experience with deeper features.
The presets are created for particular jobs, whilst the custom choices allow you to develop a special structure exclusively for yourself.For my work environment, I assigned the up and down mouse movements in conjunction with the Gesture button to open Microsoft Excel and Microsoft Access applications.I mapped "Close window" and "Do not disturb" for left and right, respectively.I mapped "New browser tab" to the Gesture button alone.I can use particular programmes and features thanks to this tailored setup without it slowing down my work.
Logi Flow configuration is also possible through Logitech Options+.If you are familiar with Synergy and Mouse Without Borders, you are aware of what Logi Flow is capable of and how it can help you collaborate effectively across several computers without the need for additional hardware.
If you're unfamiliar, merely moving your pointer to the border of the screen will instantly swap between computers.Additionally, this functionality is compatible with Windows and macOS devices!You won't need flash drives or external SSDs to move files across computers, nor even cloud storage, as I discovered when I tested it with my Macbook Air M1 and Dell G15 5515 laptop.
Good battery life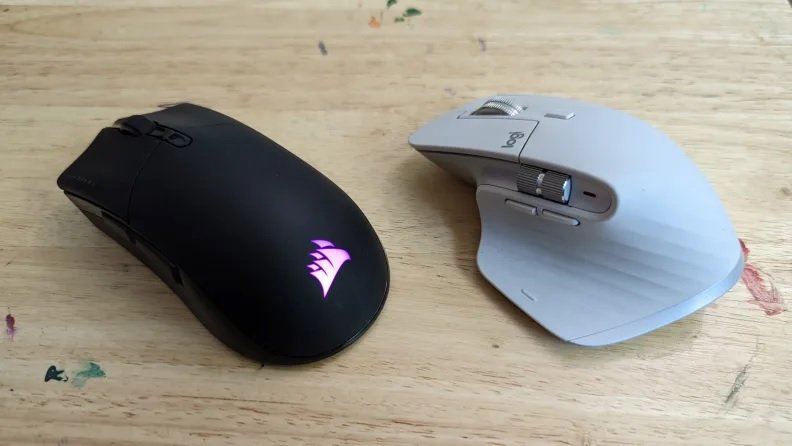 Regardless of whether you connect through Bluetooth or the bundled Logi Bolt USB receiver, the built-in 500 mAh rechargeable battery should last up to 70 days, according to Logitech.Using the mouse for both work and play for a little more than a week barely slightly depleted the battery, indicating that the claimed 70-day battery life is most likely realistic.
I utilised the mouse that was connected to my office desktop using a USB receiver.I use Bluetooth to pair my laptops when I'm writing or playing games on them.I can switch from one machine to the next with only a quick press of the mouse's back button, in part because of the Easy Switch feature.
What We Don't Like
Battery takes a lot of effort to replace
Despite all the good things I can say about the Logitech MX Master 3S Mouse, the internal battery is (technically) non-removable, which is a bit disappointing.Although it is unlikely that you will need to change a battery within the first year or two, I prefer to have the assurance that I can quickly disassemble the mouse and replace the battery with a new one to extend the life of my gadgets.Within the first two years, if the battery fails or you experience problems with the mouse, Logitech's warranty should protect you and provide a replacement.But please read the small print!
If you decide to replace the battery yourself, make sure it won't violate the warranty before doing so.If not, you will want a few specialised tools to disassemble the mouse and remove the battery.Once more, this procedure can take up to 30 minutes, and it is by no means convenient.
Should you buy it?
Yes, if you need lots of programmable buttons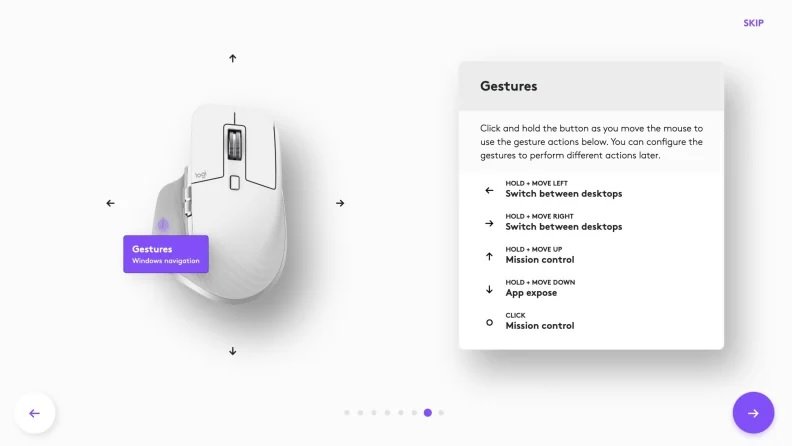 I now primarily use the Logitech MX Master 3S mouse for office work, creative writing, and some gaming, though not competitive games like CS:GO, which are best played with a standard gaming mouse.This is not meant as a criticism against the MX Master 3S mouse, just to point out that the mouse is clearly designed with productivity in mind first and gaming in mind second.
Even with mice like Microsoft's Bluetooth Ergonomic Mouse and Razer's Pro Click Mini, which are offered for $50 and $80, respectively, its price point of $100 makes it an unattractive prospect for the ordinary user.You enjoy all-day comfort and up to 15 months of battery life with Microsoft's mouse.In comparison to the MX Master 3S mouse, the Razer Pro Click Mini has a battery life of over 30 days and high dpi support of up to 12,000.
Although both of these mice are still excellent for doing both routine activities and occasional gaming, they fall short of the MX Master 3S mouse since they lack its superior features.The Microsoft product is a straightforward wireless mouse that supports many devices, however it is only compatible with Windows and macOS.Whether or not you use the Razer to play video games, the battery life is significantly reduced if you use a 2.4GHz wireless connection as opposed to Bluetooth.
The Logitech MX Master 3S mouse is the ideal mouse for productivity-minded folks who want to have a little bit of fun and independence in a world where we expect more and more from our electronic devices.The keyboard and mouse experience is improved when used with Logitech keyboards, such as the MX Mechanical.However, even if you don't have or desire that keyboard, Logitech's MX Master 3S mouse can significantly improve how you interact with your PC.
Found this article interesting? Follow BG on Facebook, Twitter and Instagram to read more exclusive content we post.