Reel themes, Remix pictures, and other capabilities have all been added to Instagram.
A number of new capabilities for Instagram's Reels and posts for users have been introduced.With the aid of new remixing tools, Meta-owned photo-sharing site users will now be able to work with other users on the platform more easily.A Reel will be shared for any video clip that is under 15 minutes, according to the announcement.Adam Mosseri, the CEO of Instagram, announced this on Twitter.
Instagram introducing Remix for photos, Reel templates & more
They will be able to remix platform-wide public photographs with Instagram's upcoming "Remix Photos" function.Additionally, users will have a variety of layout options to remix these images, including green screen, horizontal split-screen, and vertical split-screen.In order to supplement pre-existing reels with their own video commentary, they can also choose a picture-in-picture reaction view.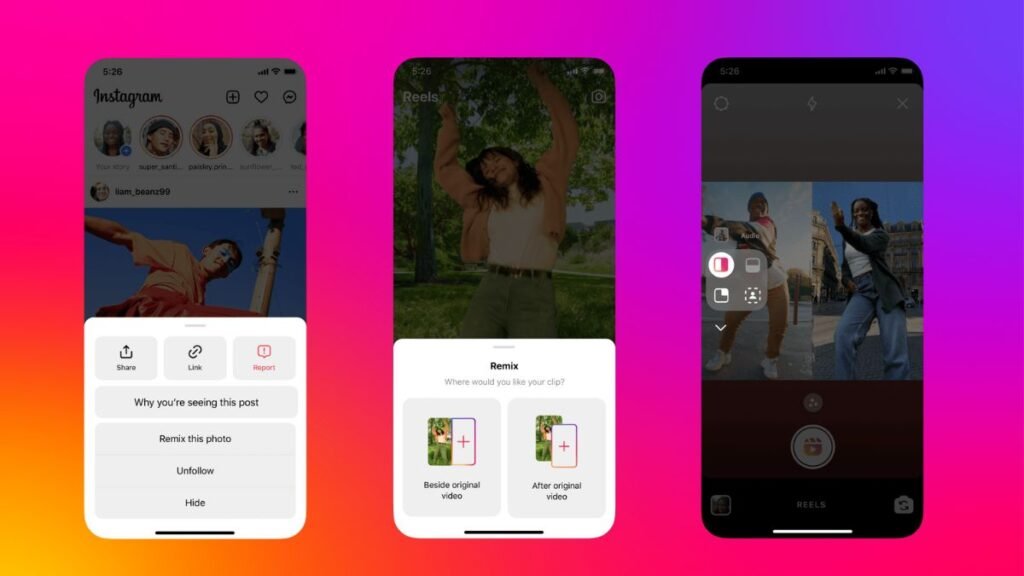 You can now upload your clip after the original so it plays sequentially, as stated in the blog post, "instead of having your remix appear at the same time as the original reel".
Instagram has introduced new Reels templates where users can simply submit images or videos by hitting the camera icon in the Reels page.Users will also be able to simultaneously record with the front and back cameras.The Dual function, as it is known, enables content producers to broadcast their emotions as they record a video using the back camera.
Instagram videos that are under 15 minutes long will be published as reels, as was previously indicated.Notably, earlier-posted videos will not alter.Instagram has also revealed that short films (now called Reels) uploaded by public profiles will get more recommendations and attention.For Reels that are under 90 seconds, this is applicable.
Instagram will also introduce a videos and Reels tab on the profile so that they can be seen in a single place.
Found this article interesting? Follow BG on Facebook, Twitter and Instagram to read more exclusive content we post.