Until the launch of the Radeon RX 6000 series earlier this year, AMD's Radeon GPUs were not exactly competitive with Nvidia's top-end GeForce RTX series. Performance was generally not as good, and there was no support for ray tracing, the hot new technology that everyone's talking about. It takes a combination of hardware and software to not only perform ray tracing, but also compensate for the strain it puts on a GPU. Now that the red team has finally delivered the kind of hardware that fans want, it's time to fill in the missing pieces of the strategy – and AMD is calling it FidelityFX Super Resolution, or FSR.
AMD FSR upscaling: Two competitors, two strategies
Ray tracing in PC games has been around for a few years now, with Nvidia taking a decisive lead over AMD with the release of its GeForce RTX 20 series graphics cards in late 2018. While adoption has been slow and limited in scope, the difference it can make in graphics quality is really starting to become a reason for people to want to upgrade from older hardware. You can now get much more realistic-looking lighting effects, shadows, reflections, explosions, and more in games.
This does come at a huge cost to performance – enabling ray tracing can cause frame rates to plummet. Nvidia addressed this issue by launching DLSS, or Deep Learning Super Sampling, at the same time that it rolled out ray tracing. What this does is allow games to be rendered at lower resolutions in the background, which reduces the burden on the GPU. That output is then upscaled in realtime using dedicated machine learning hardware and algorithms to match the original target resolution. To the gamer, there should be little to no drop in visual quality, which you would otherwise have to live with after reducing the resolution.
By reducing the load on the GPU this way, its power can be diverted to things like ray tracing, and even without that, those with lower-end hardware can experience better performance on larger monitors. DLSS is Nvidia's proprietary technology and works only with GeForce RTX GPUs, which have so far been relatively expensive.
AMD finally implemented ray tracing with its Radeon RX 6000 series earlier this year, but without an equivalent feature, which meant there has so far been no way to compensate for the performance drop. FidelityFX Super Resolution (FSR) is now here to fill that gap. It's a new feature that developers can implement in their games to achieve the same objective as DLSS. However, it doesn't require machine learning, specific training routines for each game, or special-purpose logic within the GPU. FSR instead uses simple spatial image upscaling, and for that reason it works on a wide variety of hardware.
FSR vs DLSS: Supported hardware and games
While DLSS only works with Nvidia's premium GeForce RTX 20- and 30-series GPUs, FSR can be enabled on a wide range of hardware, from Radeon GPUs going back as far as the Radeon RX 400 series to all Ryzen desktop and mobile processors with onboard graphics – and yes, even Nvidia's GeForce RTX as well as GeForce GTX 16- and 10-series models. There's even mention of the older GTX 900 series in some AMD documentation, indicating that it might work. Intel's integrated GPUs are not officially supported yet, but should work, and its upcoming discrete gaming GPU will likely fit into this landscape too.
There are currently dozens of games that support DLSS, including many of today's most high-profile PC titles – Cyberpunk 2077, Crysis Remastered, Metro: Exodus, CoD: Black Ops Cold War, Watch Dogs: Legion, Control, Death Stranding, No Man's Sky, Rainbox Six Siege, and even Fortnite. Support has very recently been added to Doom Eternal and Red Dead Redemption 2, with more new and old games added to the list regularly. There's also integration with popular content creation software and game engines. Clearly, DLSS has established a foothold.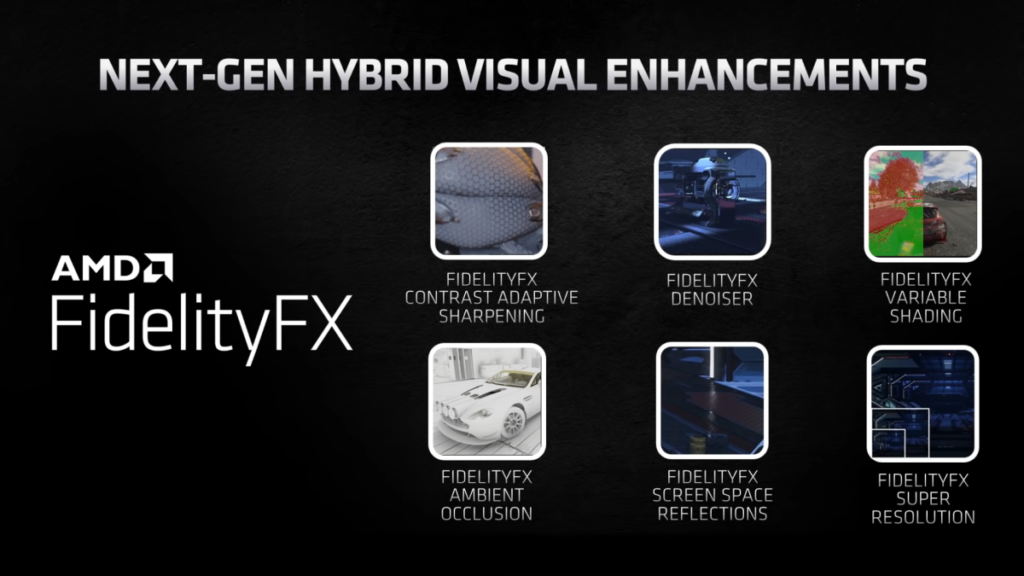 On the other hand, AMD launched FSR with only seven games– Godfall might be the most high-profile example. The rest are Anno 1800, Terminator: Resistance, Kingshunt, 22 Racing Series, The Riftbreaker, and Evil Genius 2. Dota 2, Arcadegetton, and Necromunda: Hired Gun recently received patches enabling FSR, bringing the total up to 10. A few more are confirmed to release or add support soon, including Far Cry 6, Resident Evil Village, Myst, Baldur's Gate 3, and Farming Simulator 22.
A huge number of game developers and studios are also on board and have released statements praising FSR, including EA, Ubisoft, Capcom, Warner Bros Games, Valve, Nixxes, and Crystal Dynamics. On top of that, AMD's current-gen RDNA2 Radeon architecture is also used in current-gen game consoles, the Xbox Series X|S and PlayStation 5, the Google Stadia cloud service, the just-announced Steam Deck, and upcoming flagship-class Samsung Exynos SoCs with Radeon graphics as well. There are plenty of situations in which gamers will benefit from improved performance, even if it isn't compensating for ray tracing.
So despite a slow start, AMD has two big advantages already – first, FSR is open source, and second, a broad base of existing hardware will work with it. Developers have very little reason not to implement it, considering that pretty much everyone can benefit. FSR could very well end up being something we just expect to see in every game's graphics options panel.
Of course, what really matters is how well all this works. There are no games that support both DLSS and FSR at the moment, so it isn't possible to pit these two solutions against each other. What we're looking at today is just how much of a difference FSR makes to performance, and whether the image quality tradeoffs are worth it.